There are so many fascinating things about the Missinaibi River.  It once served as a highly important trade route for the First Nations, and has earned its place as one of the 37 designated heritage rivers in Canada.  The upper part of this magnificent river is located right in the heart of the Chapleau Crown Game Preserve, which is the world's largest wildlife preserve.  With dozens of lakes, a vast wilderness and a number of historical remnants, it offers a lot of treasures for those who come to experience it.  Here are some important things to consider as you plan your trip:
Ask yourself, "Are you ready for this?"
Exploring the Missinaibi River is not for the fainthearted or the paddling newbie. Having an adventurous spirit is not enough: you need great swimming, paddling and camping skills.  It is also highly recommended that you have experienced training in white water canoeing (or a great guide / instructor with you).  In addition, you should be in decent physical shape.
The golden rule is never to canoe alone on a northern moving water river. Apart from the fact that group trips are more fun, having enough capable hands on your team is especially helpful when you need to set camp each night and move again in the morning.  You and your buddies can have a self-guided trip or hire a guide who comfortably knows the route and their way around.  If you are finding trouble convincing friends, there is always the option to join one of our scheduled departures on your own.
Unless you are planning a winter expedition through the Missinaibi wilderness, the period to paddle the river is between May and September, with most people favouring July or August.  Bear in mind, the weather may change drastically during the course of your expedition.
There are three popular options for paddling the 755KM long Missinaibi River Canoe Route:  The Entire river, from Missinaibi Lake to James Bay, The Upper Missinabi to Mattice, The Lower section from Mattice to Moosonee. A local outfitter will know of other access points and can help plan an adventure from 1 - 4 weeks in length.  A well planned trip could have you canoeing, portaging, on trains or planes, vehicle shuttles, or even scuba diving, depending on your arrangements
There is a whole list of gear that you need to have and it should all be checked prior to heading out for your trip. This is one of the reasons to use reliable outfitters when planning trip logistics.  Not having the right canoe, paddles, personal floatation device (PFD), helmet, compass, satellite phone, signaling device, float bags, water pump, throw ropes, food barrels, water purification kits as well as other camp and cooking equipment can impact the success of your experience. You also need a functional personal kit and appropriate clothing.
Know what to look out for
Over 100 (mostly faded) pictographs are found along both Missinaibi Lake (at Fairy Point) and Little Missinaibi Lake.  You can view these ancient works of art and ponder what sacred meaning they convey but you are not permitted to touch them. You may also see the remains of the Hudson Bay Company posts or other trading outposts and take the opportunity to learn more about the underlying history. There is plenty of wildlife to view, including moose, beavers, bald eagles, and Bears, to name a few. Although hunting and fishing are not permitted inside the preserve, with a valid license you can do so in designated areas further out. No promises, but there have been sightings of the Northern lights in Summer and fall, so you may just be lucky on a dark, clear night!
Of the over 50 rapids on the Missinaibi River, two are deemed impassable (the deadly Thunder-house falls and Hell's Gate gorge).  The rest are classed I, II and III, meaning that they are rapids that can be negotiated with some skill.    Still, there have been recorded deaths along the route, especially due to map errors or navigation issues.  Remember to always scout rapids before running them. Professional training is always a good idea before taking on a moving water river, traveling with an outfitter is a great option as well.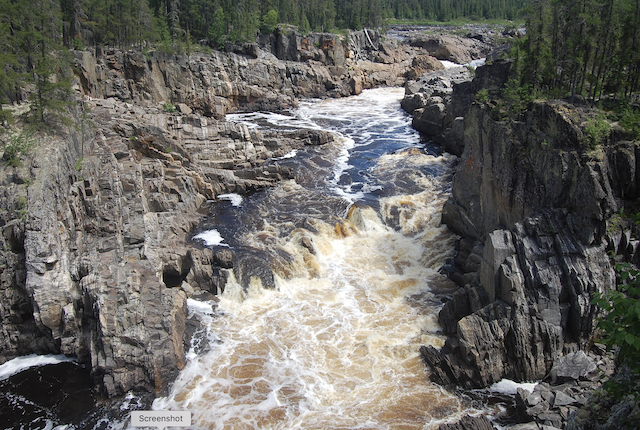 Are you ready for the challenge?
The remoteness of the Missinaibi River, its cultural significance and rich symbolism will continue to strengthen its appeal to those who recognize their inner calling.  For the past 25 years, MHO Adventures has handled logistics for canoe trips on North East Ontario's numerous rivers and lakes.  Let us take all the stress off you by helping you plan your entire trip, start to finish.  It would also be our pleasure to provide you with complete outfitting, highly delicious and nutritious food, transportation, and all around care on your trip.