Killarney is a municipality in Northern Ontario which was named after an Irish city with similar features. It is home to 'the Crown Jewel of the Ontario Parks system', the Killarney Provincial Park, which is also one of the most beautiful parks in Canada. It was established in 1964 following the insistence of influential painters who were part of the Group of Seven artists. Little wonder! It has over 50 pristine sapphire blue lakes, a coast of pink granite, a white quartzite mountain range, forests, wildlife, and colourful vegetation.
Important Sites and Sights of Killarney
The Killarney provincial park has earned a certificate of excellence by TripAdvisor due to the great reviews given by travellers. This 645 km² of lush wilderness is located about 4 hours north of Toronto and has 7 access zones. There are so many things that make the park and its adjoining areas worth checking out. Here are some of the places to visit and things to see on your trip:
1. A historic village
Established in 1820 as a trading post by a French Canadian fur trader, Killarney village is the oldest community on the north shore of Ontario. It was a major fur post and thus has a rich history. It is 10 km from the Killarney provincial park, situated at the North Channel entrance, with George Island sheltering its harbour from the Georgian Bay. It is surrounded by the beautiful white mountain peaks and rocks of pink granite.
2. La Cloche Mountains
The La Cloche ('bell' in French) range is said to be about 2 billion years old. Although it used to be higher than the Rocky Mountains, it is now only 539 meters tall, due to weathering. Its highest point is the Silver Peak, which gets its name from the silvery appearance of the white quartzite when the sun shines on it. The panoramic views from this peak are simply breathtaking.
3. A remarkable observatory
The Killarney Provincial Park Observatory was set up in 2010 and it now has two buildings, each with a telescope that is available to the public. There are a number of educative programs that go on year-round. During the summer, guests can also participate in the free Natural Heritage Education program. As a designated Dark-Sky Preserve in Canada, the observatory promotes awareness about light pollution and the park does its part to maintain this status.
4. Rugged hiking trails
What is special about the trails in Killarney is that they afford the opportunity to see so much! There are 6 hiking trails within the provincial park, meaning that you get to choose from moderate 2km hikes through La Cloche Mountains to 7-10 day adventures through 80km of breathtaking scenery. Each trail description can be found here to help discover the best hike for you!
5.The Old Killarney Jailhouse and the Killarney Museum
Although these buildings are not within the Killarney National Park itself, they are just a 10-minute drive away and are worth taking a look at if you are a lover of history. The Old Jailhouse was built in 1886 and has undergone a lot of changes since then. You can check the municipality's facilities page for more details.
The Killarney Museum is a log building behind the Jailhouse that was designed and constructed by locals in 1982. It contains artefacts that tell the history of Killarney: from its original dwellers, the aboriginals, to becoming a trade station, then a logging/fishing community, and now, a majorly tourism-centred economy.
6
.
Killarney East Lighthouse
The East Lighthouse dates back to 1866. It was rebuilt in 1909 and has recently undergone some modification. The lighthouse is found about 12 minutes away from the Killarney Provincial Park. It is small and there is not much to see inside. However, the outside of the tower is classically painted white with a red top portion, making it the perfect background for photos. Also, there are rocks around the shore that you can sit on to enjoy the surrounding beauty and serenity. You can plan a 3-hour moderate hike on the linear lighthouse trail as well, which will take you along the sparkling Georgian Bay and the maple and pine-studded forest.
7. Herbert's Fisheries
Since 1981, Herbert's Fisheries have delighted visitors with their fresh fish, served from their location which overlooks the Georgian Bay. They were featured in Canadian Living Magazine's list of top 10 fish and chips places in Canada. Even though they no longer operate out of their iconic red and white bus, you would find the dining experience quite rewarding.
Spring & Summer in Killarney Provincial Park
Apart from hiking and sight-seeing, there are obviously plenty of other activities for people of all ages to participate in during the warmer months. Here are some of the things to do in Killarney Provincial Park in spring and summer:

8. Canoeing
With over 50 lakes present, you will be spoiled for choice! These lakes are clear and brilliantly blue and the view around is extraordinary, earning it the appellation: 'canoeist's dream'. One of the most popular canoe routes is the Bell lake-David lake loop. It is designated easy according to the universal classification of rapids and can be done over a weekend. The canoe routes also have portages of varying lengths and difficulty.
9. Camping
Apart from those mentioned earlier in this article, there are other backcountry trails for your hiking experience in Killarney. And you need not limit yourself to a day hike. The popular George Lake campground is the only one within the Killarney Provincial Park but it is open to campers all year. There are also a number of other notable campgrounds, resorts and lodges available like the privately owned Killarney mountain lodge and the Rocher Rouge campground.
10. Relaxing on the beach
The park has an East beach (which is the main one) and the West beach. Both are absolutely perfect for family fun! You can sun-bathe, build sandcastles, have picnics, and play games on the shimmering sand while enjoying nature.
If you have a dog who loves the outdoors, then you would be thrilled to find out that the Killarney Provincial Park has a dog beach section! As with most canine-friendly places, the Ontario Park authorities have a list of regulations that need to be followed.
11. Swimming
The pristine lakes are so clear and blue that it is hard not to be tempted to swim in them! And you certainly should jump in… if you know how to navigate rocks, rapids and other potential hazards. If you are looking for a safer option for beginners and younger kids, then select swimming holes with slow-moving current. Otherwise it is best to restrict swimming to the beaches within the provincial park, even though those do not have lifeguards.
12. Fishing or hunting
There are only a few zones where fishing or hunting is permitted in Killarney, Ontario. You would also be required to obtain the appropriate licences and to abide by the provided rules.
Autumn & Winter in Killarney Provincial Park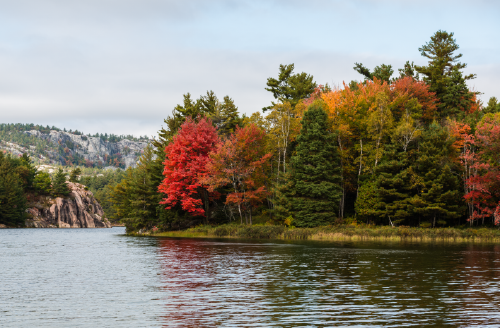 The fun does not stop as the months become colder, the activities only change. Here are things to do in Killarney Provincial Park in autumn and winter:
13.
Watch the fall colours
Every autumn presents an unbelievable array of colours. The official report viewing of leaf colours for all Ontario parks is available and it includes that of the crown jewel, Killarney. At MHO Adventures, we make sure to have at least one trip every fall, at the peak of this spectacle. You may also want to check out all our available adventures.
14. Cross-country skiing
There are 33km of trails which are off-limits at other times of the year, apart from winter. While the classic Collins Inlet Trail loops round 14.3km along fields and pine forests, the Freeland, also classic, is a linear track-set trail that leads to the self-named lake. Designated classic and skate, the Chikanishing is a linear track-set trail that winds along the enchanting self-named creek and evergreen forests. You can check here for the regularly updated official winter ski reports.
15. Snowmobiling
If you are a snowmobile enthusiast, then you can find trails of varying lengths that cross Killarney. If you are up for the challenge, the 1300 km long Sudbury Trail Plan Association Trail may catch your fancy. As with all snowmobile trails, it is important to find out what training and permits you need in Ontario.
16. Snowshoeing
The lovely thing about snowshoeing is that it is easy to learn, provides great cardio, and is plenty of winter outdoor fun. And if you don't want to invest in your own snowshoes yet, there are places in Killarney where you can rent the right gear. Do not forget to dress appropriately, though. You can use our guide to help you pack the essentials.
17. Stargazing
You already know about the observatory, but that's not the only way to view the cosmic bodies. It is simply fun to snuggle inside any one of the six heated yurts at the George Lake Campground. The park also has two equipped camp cabins, which sleep up to 5 persons each. On a beautiful night, all you would need to do is look up and see the Milky Way stretched across the clear sky!
More things to do in Killarney Provincial Park year-round:
18. Birdwatching
There are over 100 species of birds that spend some time in Killarney Provincial Park and you can view them at different periods in the year. You can also get some help in identifying the birds from naturalists within the park. However, each December, the park holds a Christmas bird count, which draws birth enthusiasts, amateur and expert alike. You can learn from others, observe and count birds, then have lunch with your new friends. If you cannot make the Christmas count, there are spring and summer Loon counts too.
19. Camping food
You may not be able to catch your own fish or hunt for game, but you can still have nutritious food to supply you with all the energy you need in Killarney. MHO Adventures has unique gourmet recipes that will make your wilderness experience utterly enjoyable!
20. Photography
Regardless of your photography expertise, Killarney presents amazing picture-perfect opportunities. The natural array of colours and fun activities are guaranteed to fill your camera memory up in no time! You may also be able to capture some wildlife as they go about their business in the largely unspoiled wilderness.
21. Painting
The 'Group of Seven' are not the only ones who got inspired by the picturesque views. The Friends of Killarney Park offer a number of art programs, including free art lessons to visitors. So even if you are not a professional, you can also try some brush strokes on canvas and see what you come up with!
How about a weekend Killarney, Ontario adventure?
This autumn, we want you to experience the entire rainbow: silver peaks, pink bay, sapphire lakes, and the fall colours! There will be hiking to the top of the La Loche Mountains, camping, canoeing, amazing sight-seeing, and so much more. MHO Adventures has planned the expedition that your whole family can get in on for an unforgettable Killarney fall weekend. If those days do not work for you or you would rather plan something else, do let us know.